Download free issue
Throughout the year we replace the free download by a more recent issue. This enables people with potential interest to make up their mind for a subscription. In order to verify your interest in a subscription to this newsletter, we ask you to submit below your name and email address. You can indicate that you do not want to be contacted.
CONTENTS OF THE MARCH-APRIL 2017 ISSUE OF ADJUVANTS & FORMULATIONS
Pesticide formulations according to the ionic liquid approach

Not necessarily environmentally friendly
Ionic liquids to overcome polymorphism
Ionic liquid based formulations of phenoxy acid herbicides
Viscosity modelled
Four dozens of patent applications

News in brief

Direct delivery of RNAi as crop treatment
Wetting of hydrophobic substrates by pure surfactants at continuously increasing humidity
Effects of carrier water quality continues to attract attention
Effect of hard water cations on the efficacy of 2,4-D choline and premixed 2,4-D choline plus glyphosate
Effective liquid bait formulation of insecticides
Insoluble copper formulations are more effective than soluble copper formulations for citrus canker control

Patents in brief

Water conditioner
Suspension comprising water soluble solvent, inorganic thickener and alkoxylate
Non-hygroscopic granular glyphosate and glufosinate
Oxadiazon capsule suspension with low phytotoxicity in rice
Photolysis-stable sulfentrazone
Water-insoluble active ingredients transformed into water-soluble compounds

Symposia abstracts: Weed Science Society of America Annual Meeting, ACS Spring 2017 National Meeting & Exhibition
Literature with hyperlinks to the original sources
Agenda of meetings online
Advertising companies online
Item of the month: Neonicotinoids in sugar beet cultivation in Central and Northern Europe: Efficacy and environmental impact of neonicotinoid seed treatments and alternative measures
Download form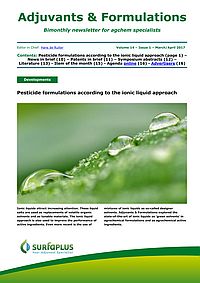 Front page of Adjuvants & Formulations
MARCH-APRIL 2017
When you want to start a subscription, then you can go the purchase page
.